Thursday, September 26, 2019
Time: 7-9 PM
Location: Wellspring United Methodist Church
5702 South Hill Drive, Madison, WI 53705
A Musical Fundraiser event to support education of underprivileged children in India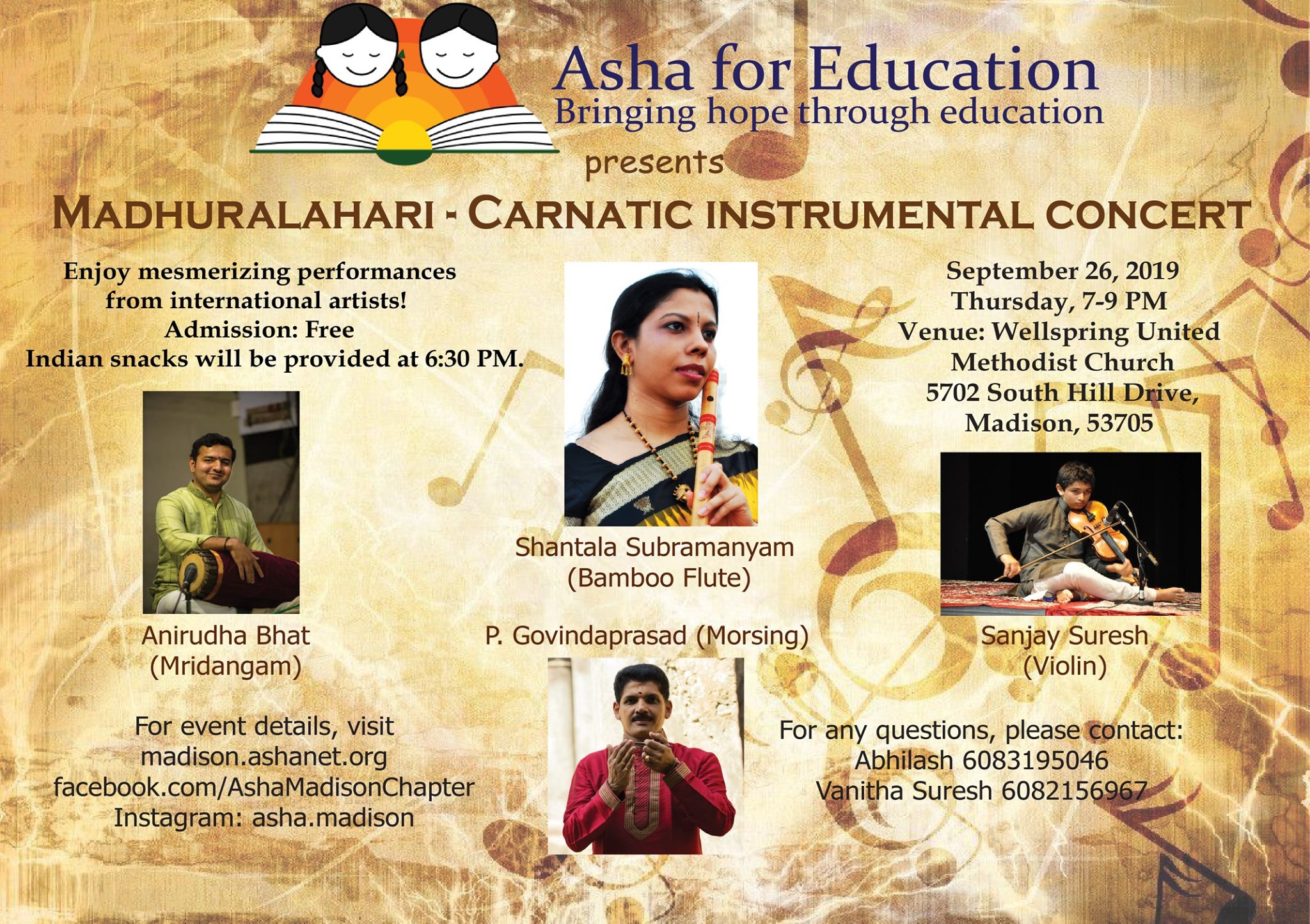 Asha for Education – Madison Chapter is hosting Madhurlahari, a Carnatic instrumental concert – a fundraiser event full of mesmerizing performances by renowned international artists! Featuring Shantala Subramanyam, accompanied by Anirudha Bhat, P. Govindaprasad and Sanjay Suresh to cast a magic through music with mesmerizing pieces!
Join us at Wellspring United Methodist Church to enjoy some amazing performances and delicious Indian snacks. Snacks will be served at 6:30 PM.
Admission is FREE.
Suggested donation at the venue: $10 or higher
Online donation link.
All proceeds from this event will go to the projects in India supported by Asha Madison.
Asha for Education focuses on catalyzing growth and progress through the powerful tool of education for under privileged children. To that effect, we have worked on projects like Nirmaan Organization in Hyderabad which helps school dropouts and underprivileged students in rural areas of Telangana by providing career counseling and mentorship programs, and Unnati Foundation in Bangalore which has been working towards transforming the underprivileged, unemployable and below poverty level youth and making them economically independent. Most recently, we supported a project by CHIP Mumbai focusing on mentoring underprivileged children and facilitating them with equitable and state-of-the-art learning opportunities with classrooms equipped with digital aid, benefitting about 500 students.
Asha for Education – Madison Chapter would like to continue our support to these projects. In particular, through this event we are looking to raise a total of $2000 to support Nirmaan Organization's work for the year 2019-2020. We will greatly appreciate any donations during the event.
If you enjoy the evening, please consider a donation of $10 or higher or support Asha by sharing our work in the community.
If you cannot attend in person but would like to support the cause, please consider an online donation here.
Questions? Find our team members at the event or write to us at madison@ashanet.org!
Doors open at 6:30 PM CDT on Thursday, September 26th at TBD!
Here are the artists that will grace the occasion.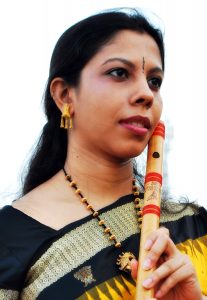 SHANTALA SUBRAMANYAM born in Bangalore, was raised in Chennai, heartland of carnatic music. Like many Carnatic musicians, Shantala started playing in early childhood under the tutelage of her father M N Subramanyam, himself an amateur musician and her brother Shashank, an eminent flute artist. It was also her good fortune to be trained by eminent performers -vocalist Late Sri. Vairamangalam Lakshminarayanan and is currently pursuing vocal music training under Sri O.S.Thyagarajan. She gratefully acknowledges the contributions of famed South Indian drummers Trichur Sri.Narendran, Patri. Satish Kumar and Parupalli Phalgun towards enriching her rhythm training, spread over a decade. Owing to her diligent training, Shantala has been highly appreciated for her melodic presentations combined with complex rhythmic patterns. Today, she's recognized as an important and authentic voice in this demanding tradition and this view has been echoed by music critiques.
Shantala has graced the stages of many reputed organizations in India and abroad and, in recent years is a frequent visitor to Europe, USA, Canada, England, Ireland and Malaysia for concerts, workshops and lec-dems.
Shantala is also a well sought after teacher. She has been imparting training in South Indian vocal music, flute playing and reciting "konakkol" [vocal rhythm] to scores of students from India and across the globe.
She has released 3 CD albums titled "Singing Bamboo", "Bamboo in Harmony" and "Dakshin" in collaboration with popular and competitive artists from the South Indian music tradition. The albums have been highly appreciated by critiques and audiences alike.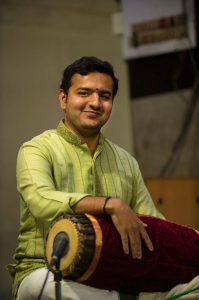 ANIRUDHA BHAT started training at the age of 12 under Sri. M V Mohan and later under Sri. K U Jayachandra Rao. He has been performing alongside many famous musicians across prestigious venues in India for about 2 decades now. He has accompanied many reputed musicians such as Smt. Aruna Sairam, Mysore Nagraj and Manjunath, Sri. Vidhya Bhooshaa to mention a few. Anirudh is a recipient of many awards and accolades and has travelled widely in Europe, UAE and Africa.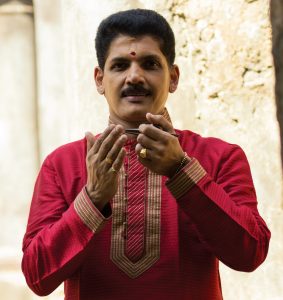 PAYYANNUR T. GOVINDAPRASAD started training in Mridangam and other South Indian percussion instruments in his early teens under the tutelage of Sri. Vishwanathan Namboodiri. Finally he realized his special bondage with the Morsing and today he is one of the leading Morsing artistes in India. An A-grade artiste of All India Radio, Govindaprasad has carved a niche for himself on the classical music concert circuit with his musical acumen and skill. This wind percussion instrument, mainly played in Carnatic music concerts in South India, is found in different parts of India. He has accompanied many senior and coveted musicians like K.J. Yesudas, M. Balamuralikrishna, T.N. Seshagopalan, T.V. Sankaranarayan, O.S. Thygarajan, Sreevalsan J. Menon, T.M. Krishna, Prince Rama Varma, P. Unnikrishnan, Sanjay Subramnayam to name a few.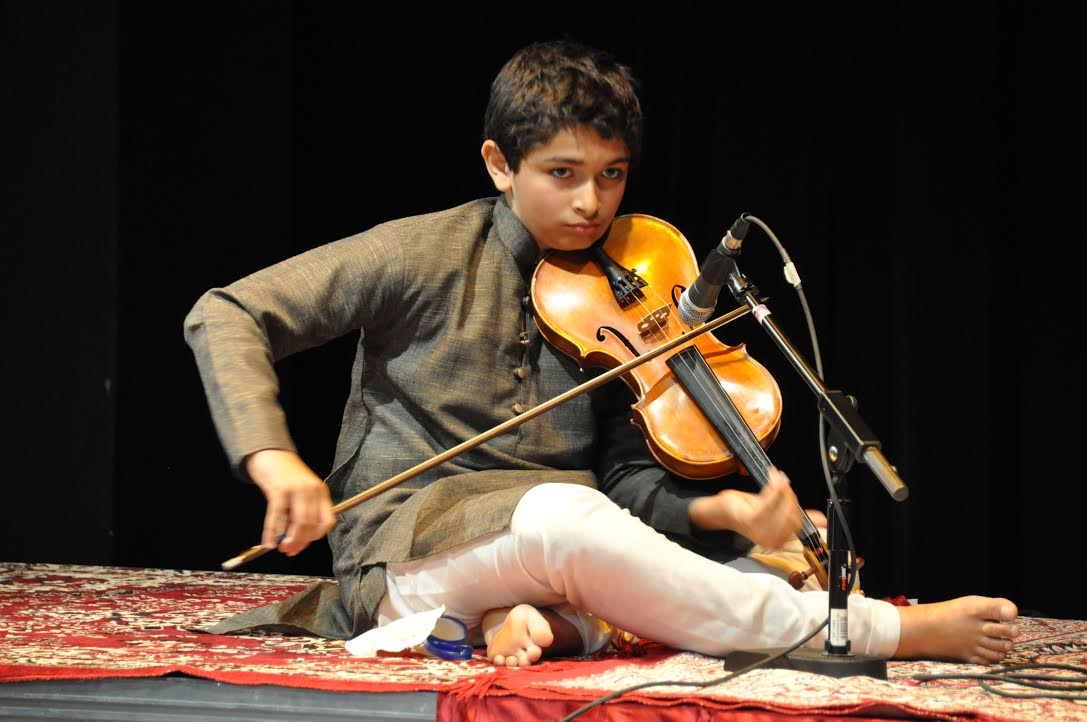 SANJAY SURESH, disciple of Sangeet Samrat Chitravina N Ravikiran, trained initially under his mother Vanitha and Violinist Srinivasa Murthy. Since his maiden concert as a soloist and accompanist to Sikkil Gurucharan in July 2017, Sanjay has presented solo concerts and also accompanied a number of leading artists in major festivals and venues including Smt Alamelu Mani, Ravikiran, Carnatica Brothers and Palghat Ramprasad, to name a few. Sanjay is a rising Sophomore in Middleton High School, and also plays the Western Violin. He has also arranged several pieces for Western ensembles following the principles of Melharmony.