Saturday, March 10, 2018
Location: Capital City Church, 401 N. Blackhawk Ave, Madison, WI 53705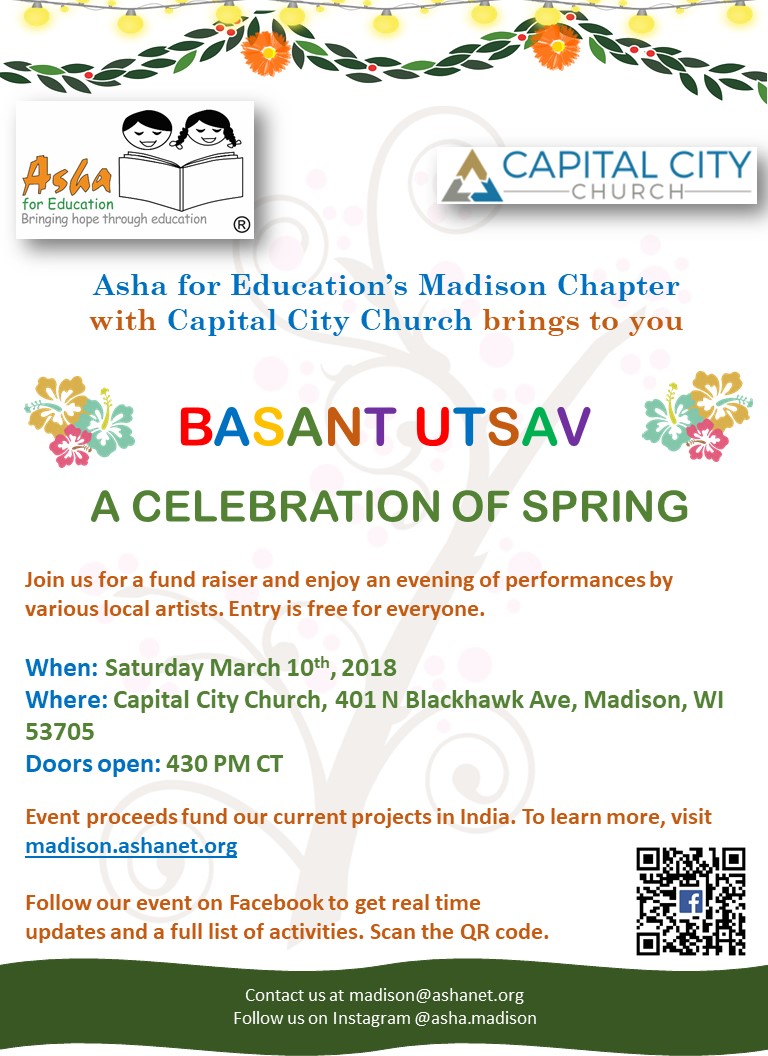 Asha's Madison Chapter, in conjunction with Capital City Church, is hosting a fund raiser event of music, songs and dance performances.
Called the 'Basant Utsav', this event celebrates the oncoming season of Spring which marks life and new blooms.
Join us at Capital City Church to enjoy some mesmerizing performances and delicious snacks.
The event is free and open for all.
Asha for Education focuses on catalyzing growth and progress through the powerful tool of education for under privileged children. To that effect, we have worked on projects like Unnati which has been working towards transforming the underprivileged, unemployable and below poverty level youth and making them economically independent.
We have two new project proposals from Nirmaan in Telangana, India and Children in Progress (CHIP) Mumbai, India focusing on mentoring underprivileged children and facilitating them with equitable and state-of-the-art learning opportunities. We are looking to raise a total of $5000 to support these projects and will appreciate any donations during the event.
If you enjoy the evening, please consider a donation of your choice or consider supporting Asha by sharing our work in the community.
If you cannot attend in person but would like to support the cause, consider a donation here.
Questions? Find our team members at the event or write to us at madison@ashanet.org!
Doors open at 430 PM CT!
Check out the Event Facebook Page!
Here are some glimpses of the beautiful performances that we witnessed during the event. All the event pictures can be found on our Facebook Page and the Event Picture Gallery.